Lot 10 Property
Located within the heart of the popular Bukit Bintang shopping precinct in Kuala Lumpur, Lot 10 Property is positioned to appeal to young urbanites. Lot 10 is home to the first H&M store in Malaysia and a three-storey Zara store. The basement houses the Lot 10 Hutong, a heritage gourmet village which offers a truly gastronomic experience right in the heart of Bukit Bintang. It has been listed by New York Times as one of the "Top 37 Asian Odysseys". In 2017, Lot 10 Hutong received the Platinum award in the Foodcourt category at the Kuala Lumpur Mayor's Tourism Awards 2017.
Since 2016, Lot 10 has been undergoing rejuvenation and is repositioned to appeal to tech-savvy young urbanites. Improvements include remodeling its interior ceiling, a new hoisting system that allows moving decorative pieces to hang down the central atrium, new escalators, lifts and signage and a redesigned carpark. The drop-off entrance to the mall next to the monorail station has also been revamped. In conjunction with the new Bukit Bintang MRT station, a new entrance to Lot 10 is currently being built which would lead shoppers directly from the street level to the shops at level 1, tapping into the enlarged population catchment served by the MRT line.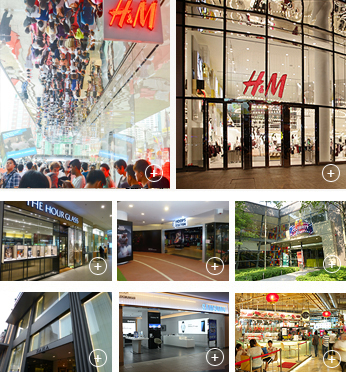 Property Profile
Address
50 Jalan Sultan Ismail, 50250 Kuala Lumpur, Malaysia
Description
137 parcels and 2 accessory parcels of retail and office spaces held under separate strata titles within a shopping centre known as Lot 10 Shopping Centre which consists of an 8-storey building with a basement and a lower ground floor, together with a 7-storey annex building with a lower ground floor (Lot 10 Property).
Positioning
Chic and trendy mall for young urbanites
Year of completion
1991
Committed occupancy
100.0%(2)
Net lettable area
256,811 sq ft(2)
Number of tenants
1(1)(2)
Title
Leasehold estate of 99 years expiring on 29 July 2076
Selected brands of tenants(2)

H&M
Zara (First Flagship Store in Malaysia)
Liverpool F.C. Store
Braun Büffel
Celebrity Fitness
Lot 10 Hutong
Alpha Hub
Samsung

Valuation
S$136.3 million(3)
Website
www.lot10.com.my
Master lease with Katagreen Development Sdn Bhd
As at 31 December 2017.
As of 30 June 2017.