Myer Centre Adelaide
Myer Centre Adelaide is a prominent landmark and the largest shopping centre located in the city's premier retail precinct, Rundle Mall. Myer Centre Adelaide is within walking distance to the Riverbank Entertainment Precinct and also in close proximity to universities and hostels, as well as the city's art galleries, museums and casino. The property is surrounded by offices in the city centre.
Anchored by the largest Myer department store in South Australia, the 502,000 sq ft retail centre houses over 85 other specialty tenants. Myer Centre Adelaide also features South Australia's largest LUSH store and the city's largest sports store, Rebel. The retail centre is home to international retailers including Daiso and Nine West, as well as national labels such as Katies and Rubi Shoes. Complementing the retail experience, Myer Centre Adelaide provides a wide range of dining options with cafes and a 600-seat lower ground foodcourt, which is the largest in Adelaide's city centre.
The property comprises an eight storey retail centre with four basement levels of car park space, and an office component which includes a six storey office tower above the retail centre and two heritage buildings, which comprise Terrace Towers, a six-storey 81,000 sq ft office tower above the retail centre and two heritage buildings (Shell House and Goldsbrough House). Completed in 1991, the property last went through a major A$35 million asset enhancement in 2013 and 2014 which included the refurbishment of the five-storey Myer department store.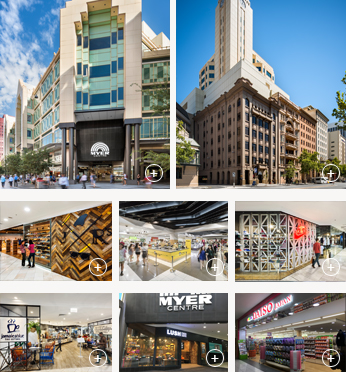 Property Profile
Address
14-38 Rundle Mall, Adelaide SA 5000, Australia
Description
Myer Centre Adelaide comprises a retail centre, three office buildings and four basement levels with approximately 467 car parking lots. The retail centre is spread across eight floors and anchored by the popular Myer department store and specialty tenancies. The office component includes a six-storey office tower which sits atop the retail centre and two heritage buildings.
Positioning
Targets the mid income segment
Committed occupancy
94.4% (Retail) 31.9% (Office)(1)
Net lettable area
600,000 sq ft(1)(2)(Retail – 502,000 sq ft; Office – 98,000 sq ft)(2)
Number of tenants
101(2)
Title
Freehold
Selected brands of tenants(2)

Myer
Lush
Sunglass Hut
Rebel
Nine West
Noni B
Jacqui E
Katies
Daiso
Rubi Shoes

Valuation
S$317.1 million(3)
Excludes 114,000 sq ft vacant area in the highest two floors of the retail centre.
As at 31 December 2017.
As of 30 June 2017.