Lot 10 Property
Located within the heart of the popular Bukit Bintang shopping precinct in Kuala Lumpur, Lot 10 Property is positioned to appeal to young urbanites. Lot 10 is home to the first H&M store in Malaysia. Notable tenants in Lot 10 include The Hour Glass, The Coffee Bean & Tea Leaf and the Yes Mobile flagship store. The basement houses the Lot 10 Hutong, a heritage gourmet village which offers a gastronomic experience in the heart of Bukit Bintang. Other tenants at Lot 10 include J's Gate Dining with its cluster of 18 authentic Japanese eateries, Beryl's, Bisou Bake Shop, The Fourheads, Gamer's Hideout, The Optimist Coffee and Sugar Mummy Boba. New tenants in FY 2019/20 inlcude UniqTee, Sennheiser and Machi Machi as well as Don Don Donki which will open in 2021.
Holistic asset rejuvenation of Lot 10 was completed in 2018, in conjunction with the opening of the second phase of the new Sungai Buloh-Kajang MRT Line. Improvements of the mall include the remodelling of its interior ceiling, a new hoisting system to allow moving decorative pieces to hang in the central atrium, new escalators, lifts and signage and a redesigned car park. Externally, the vehicle drop-off closest to the monorail station has been revamped, while the main entrance is more visually appealing with colour-changing smart LED lights. A new entry point from the Bukit Bintang MRT Station has been constructed to lead shoppers directly from the street level to the shops at Level 1, tapping into the enlarged population catchment served by the Sungai Buloh-Kajang MRT Line.
The mall has also been repositioned as a digital, fashion-forward destination with its tagline meet.play.#loveLot10, appealing to tech-savvy young urbanites.
The new master tenancy agreements for Starhill Gallery and Lot 10 Property (Malaysia Properties), which include asset enhancement works for Starhill Gallery, have commenced. For more details, please refer to the SGX-ST announcement issued on 18 March 2019 and the Circular to Unitholders dated 25 April 2019.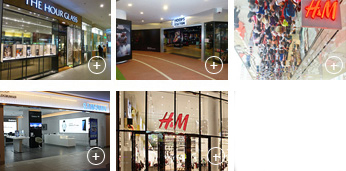 Property Profile
Address
50 Jalan Sultan Ismail, 50250 Kuala Lumpur, Malaysia
Description
137 parcels and 2 accessory parcels of retail and office spaces held under separate strata titles within a shopping centre known as Lot 10 Shopping Centre, which consists of an 8-storey building with a basement and a lower ground floor, together with a 7-storey annex building with a lower ground floor (Lot 10 Property).
Positioning
Chic and trendy mall for young urbanites
Year of completion
1991
Actual Occupancy(1)
100.0%(2)
Net lettable area
254,163 sq ft(2)
Number of tenants
1(2)(3)
Title
Leasehold estate of 99 years expiring on 29 July 2076
Selected brands of tenants(2)

H&M
The Hour Glass
The Coffee Bean & Tea Leaf
Lot 10 Hutong
Samsung
Yes Mobile flagship store
Sennheiser
Machi Machi

Valuation
S$148.0 million(3)
Website
www.lot10.com.my
Based on commenced leases as at 30 June 2020.
As at 30 June 2020.
Master lease with Katagreen Development Sdn Bhd.